Smashwords just gave my publisher and me a really nice New Year gift. They finally approved The New Testament set of Five Minute Bible Stories for premium distribution. Look out for them soon on Barnes and Noble and Kobo as well as Amazon, and click on the image below to follow from Christmas to Easter and beyond.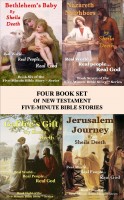 Meanwhile, I'm working on stories of Peter and Paul, so perhaps I ought to make them my New Year Resolution. Can you suggest a title (or two)?
Happy New Year!
And may Christmas bless and inspire each day of it!