Nazareth Neighbors has just been released by Cape Arago Press, and I'm dancing on the moon–well, I would be, but it's cold outside, so I'll dance around the living room instead. Then I'll decorate the Christmas tree that's scenting the room with festive hints of pine.
Here's where you can find it–the ebook, not the tree!
on Amazon kindle: http://www.amazon.com/Nazareth-Neighbors-Five-Minute-Bible-Series-ebook/dp/B00HFY2KIE/
and on  Smashwords: https://www.smashwords.com/books/view/390204
And here's what the publisher has to say about it: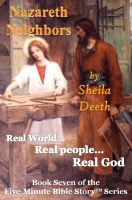 Readers say: "Deeth's young Jesus is delightful"…"her well-developed stories seamlessly meld with the Gospel narratives"…"an encounter with a Jesus I never imagined"… "true to life and thoroughly believable, your kids will love them."
Welcome to Nazareth Neighbors, the Seventh installment in the increasingly popular Five-Minute Bible Story™ Series. Author Sheila Deeth extends her exploration of the New Testament period with this artful examination of the so called hidden years in the life of Christ.
Matthew's Gospel narrative brings the Holy Family back from Egypt and home to Nazareth in Galilee. He then leaps ahead over twenty-five years and begins his next chapter with John the Baptist preaching in the wilderness. Likewise, Luke sends them to Nazareth assuring us that "the child grew and became strong, filled with wisdom…" In the very next verse, Jesus re-appears as a twelve-years-old heading to Jerusalem with his parents for the Passover. Chapter Three makes a second leap forward, telling us it's now the fifteenth year of the reign of Tiberius Caesar [i.e.: AD 29], Pontius Pilate is governor of Judea, Herod Antipas is tetrarch of Galilee, and Caiaphas is high priest.
So what happened in those hidden years, those intervening decades between the return to Nazareth and the time when Jesus began his public ministry? Ms. Deeth fills this gap using logic, imagination and a subtle sense of humor. In so doing, she presents everyday life in Nazareth for the boy Jesus. Throughout the book's fifty-plus chapters he assists Joseph in his carpentry work, interacts with friends and neighbors, and experiences the wider world beyond his hometown. The reader meets a young, but self-aware Jesus filled with boyish curiosity yet often wise beyond his years. Ever alert to the world around him, he catalogs the ups and downs of First Century life compiling a treasure trove of memories. And it's from those memories and experiences that Jesus extracts the nuggets of wisdom for his parables.
I think I'm blushing while I dance, and I'm thrilled to know how much his readers like it! Here's hoping my readers will like it too 🙂
Happy Christmas !